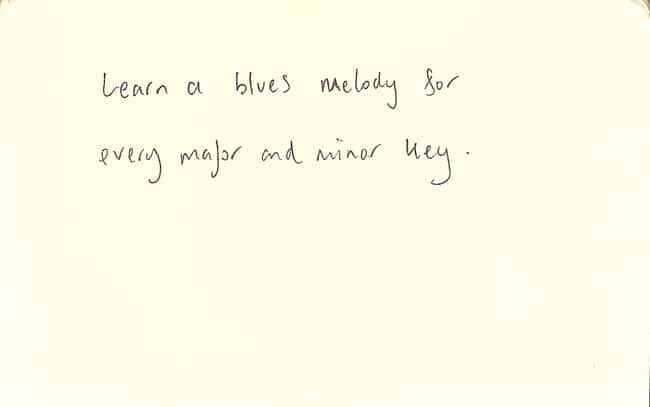 Here's a list of blues tunes in every major and minor key (apart from Ab minor), and a Spotify Playlist so you can hear them all. I blogged about this ages ago, and you can see the original post here.
It'd be a really good idea to learn them all. Then you'd have a nice repertoire of tunes, 24 ways of playing a blues progression, harmonic variations, melodies, good things to listen to, ideas for constructing solos, and so on.
Still haven't found a blues in Ab minor….
Major Key Blues Heads [Opens Spotify Playlist]
C Major: Cheryl
Db Major: Things Ain't What They Used To Be
D Major: D Natural Blues
Eb Major: Sandau
E Major: Follow Your Heart
F Major: Honky Tonk
F# Major: Mr. Day
G Major: Night Train
Ab Major: Freight Trane
A Major: Go Get It
Bb Major: Blues On The Corner
B Major: H+H
Minor Key Blues Heads [Opens Spotify Playlist]
C minor: Stolen Moments
C# minor: Equinox
D minor: Timeline
Eb minor: Loose Bloose
E minor: Riders On The Storm
F minor: Green Onions
F# minor: I Put A Spell On You
G minor: Blues For Yna Yna
Ab minor: ???
A minor: Love That Burns
Bb minor: Boogie Stop Shuffle
B minor: Hide And Seek