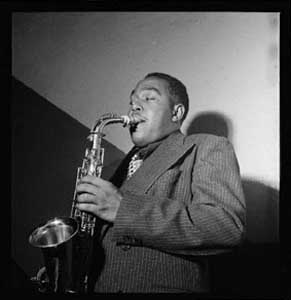 You can use the Charlie Parker Omnibook as a great way to focus your practice and listening. I made a playlist for all the tracks which clocks in at just under 3hrs of AMAZING music. Ko Ko is my favourite piece that's transcribed in the book – face-melting in every way :)
I'll let you know how you can grab the playlist and more at the end of this article.
Here are 4 ways you can practice with it:
Listening
Make a playlist with all the tracks lined up in the order of the book, hit play and then listen & follow along with the score. By doing this regularly, you're working on absorbing Parker's feel, phrasing and language. There's so much you can gain from just listening to these tracks. Miles Davis said it best: "You can tell the history of jazz in four words: Louis Armstrong. Charlie Parker."
Sight-Reading
If you're looking to improve your sight-reading then try this – Start the playlist and sight-read the solos in the Omnibook. This is a very challenging thing to try, BUT, before you say 'impossible!', try it! A 3hr sight-reading ROAST is good for you :) You'll start to look for ways to grab as much as you can there and then. Think of this more as musical triage: What are the most important things you need to focus on to give yourself the best chance of playing along with the music?
Filters
Apply a 'filter'. By this I mean you put your attention on only ONE aspect of the music. For example:
Focus only on the

dominant chords

– can you spot any patterns, regularly occurring note choices or sounds?
Focus only on

accents

– Parker's playing is really dynamic. Where does he use accents?
Focus on

phrase endings

– how does he end his phrases?
Focus on how he uses 

space

 – can you find any patterns to how he uses space?
Focus on 

quotes

– Parker used lots of quotes in his playing, what can you hear?
Group Listening
Listen along with someone else. I usually discover music through other people and I really enjoy hearing how and what other people hear in the music – their favourite bits, how they hear it, their knowledge, other recordings, etc. It's good to share.
Just as a side note – I feel it's important to remember that the goodness is in the music, not the Omnibook. The book serves as a great way in to a chunk of Parker's music, but don't rely on the book. And just listening to Ko Ko will confirm that. Check out how tight they are together and yet what's going on rhythmically is so fleet and un-graspably compelling. It's one to listen to again and again.
Outside of Omni-world, my favourite Parker tracks are Embraceable You which has an absolutely stunning solo; The Washington Concerts featuring Parker winging it over a big band with no rehearsal – incredible, smart, intuitive playing and a great Red Rodney interview; and, The Savoy Sessions featuring Parker playing tenor alongside Miles Davis. I really like those knotty tunes on this one like Sippin' At Bell's, Milestones, etc.
Also, I recorded an album of Charlie Parker's music with Martin Speake which you can find here :)
ELECTRIC CAMPFIRE MEMBERS!
Learn this incredible solo and I show you step-by-step exactly how I play it on the guitar.
Not an Electric Campfire Member? Click here to learn more
Here are the tunes in the book:
Ah-Leu-Cha, Another Hairdo, Anthropology [some skips in the version], Au Privave [No.1 & 2], Back Home Blues, Ballade, Barbados, Billie's Bounce, The Bird, Bird Gets The Worm, Bloomdido, Blue Bird, Blues (fast), Blues For Alice, Buzzy, Card Board, Celerity, Chasing The Bird, Cheryl, Chi Chi, Confirmation, Constellation, Cosmic Rays, Dewey Square, Diverse, Donna Lee, K.C. Blues, Kim [No. 1], Kim [No. 2], Klaun Stance, Ko Ko, Laird Baird, Leap Frog, Marmaduke, Merry-Go-Round, Mohawk [No. 1 & 2], Moose The Mooche, My Little Suede Shoes, Now's The Time [No. 1 & 2], Ornithology, An Oscar For Treadwell, Parker's Mood, Passport, Perhaps, Red Cross, Relaxing With Lee, Scrapple From The Apple, Segment, Shawnuff, She Rote [No. 1 & 2], Si Si, Steeplechase, Thriving From A Riff, Visa, Warming Up A Riff, Yardbird Suite.
Ok, so there's 4 ideas for you to practise with the Charlie Parker Omnibook.
As I mentioned, I've made a Spotify playlist of all the tracks in the Omnibook for you to use (over 2000 people use it). And another playlist of my favourite Parker recordings.
Here's how you can get the playlists:
Click HERE to Grab my Spotify Playlist of all the Omnibook Tracks