Check out Mike Outram's website ElectricCampfire.com. If you want to get some jazz lessons – this is the man. He's who I go to when I'm trying to get my jazz chops together!
– Justin Sandercoe​​ – JustinGuitar.com
"I'd definitely like to echo Neil's comments – there's been some fantastic stuff happening on here in the past year covering a huge amount of ground (music, memory, habits, psychology, creativity etc. etc.). It's also been very motivating having Mike and the rest of the community pushing me to actually get on and do things – especially when they're in areas of weakness that I'd prefer to ignore if only people would let me…
Bottom line is that I think my playing has improved more in the last year than in any other year I can remember since I'd learnt the basics and Electric Campfire has been possibly the most important thing driving and enabling that progress."
– Mark Morley-Fletcher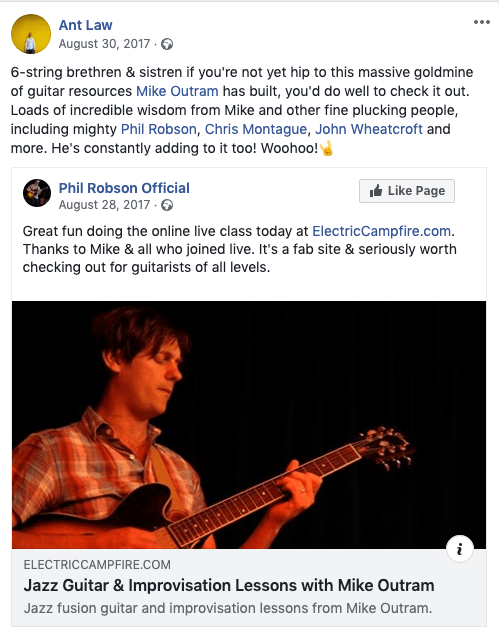 "My playing has undoubtedly improved by virtue of the fact TEC has got me out of that vicious cycle of just noodling with absolutely no direction. There's always a lesson or a challenge to take up. I really like the mix of exercises (like the triad quest, practice routine), pieces (Zhivago, Mi Cosa, Softly) and philosophy (Play Better Solos). I feel like I am moving forward again, even if it's slowly.
I like Mike's post on how to frame practice. My biggest challenge is the 'do music' part, since a full time job and two kids under 4, life in general, makes it quite difficult… but that won't last forever! :-) So TEC is like a refuge, this is the place I can 'do music' consistently. I often practice or post stuff at around midnight when I really should be asleep if I want to be coherent in meetings the next day :)
My goal right now is to keep my playing ticking over until it's easier to get out and about and do more music, specifically playing with other people. Ideally I'd really like to find some folks to play with regularly, a duo, a trio whatever…
It's never a bad time to take the opportunity to say thanks to Mike for creating such a great site and finding the time and energy to be so on it with feedback in the comments and on the forum. It's also fantastic to watch TEC steadily grow into such a really great community – 'you get out what you put in' is never truer :)"
– ​Neil Hodgson

"It's great to have such a positive community feel on this site. I am loving the material as well as the feedback :-)"
– Ernest Alishan​
"TEC has turned my relationship with the guitar around completely. I guess I did effectively give up too, although I hadn't thought of it like that. Wasn't playing music, and just picked up the guitar at random times to play whatever was in my head/fingers or to read a bit of music, but totally sporadically and with no goals in mind and no purpose. It had been like that for years I guess….
After joining TEC in June I now have:
a regular practice routine
monthly goals
more confidence on the instrument
a bunch of people to talk to about it all
interest and enthusiasm for music and sounds
a great community of like-minded students
material for a lifetime
an inspirational tutor
– ​Will Gibson
"As a gigging musician and teacher, it is incredibly important for me to surround myself with as many great players as I can to keep myself both motivated and inspired to play. People with Mike's playing ability and enthusiasm to share knowledge are a rare gift. His site is a beacon of light for wayward guitarists looking to take their playing to the next level and beyond. If you're serious about your playing, definitely check it out."
– Ian Silk
"Overall what's worked for me – in the sense of seeing some progress – has been having limited goals, and within them, focussing systematically and consistently on particular aspects of theory and technique. You've done this for me by constructing the practice routine! The videos *work" too, they're a big help to make sure I've understood an exercise/lesson."
– Kim​
"The result was much better than I expected and I really feel that this is the result of working so much on my ear as I have since the Chet Baker challenge in September. It has really changed the way I listen, and the clarity of the music in my head is much more precise."
– Esben​
"I feel I have learnt much more than in any other musical activity, Mike is really a unique teacher and I am happy to be part of this site with all of you."
– Maurizio​
"Just worked through this as a series of lectures. It's amazingly clear."
– Ian W
"I have to say I really loved this lesson, I have been working on 'All The Things You Are' forever and have never been able to improvise on it with any success. Using your method is so simple but it's given me a way in finally! I can even get round the middle 8 in a not too horrendous way! Thanks, more like this please."
– Chris
"I can safely say my motivation to practice hasn't been this high since I was in music college in 2002 so that bodes well – thanks everyone for your kind welcome, and particularly to Mike for creating this community and such interesting content. I feel more at one with my guitar than I did seven days ago, and even more exciting than that, I can see a clear way forward for the coming weeks and months. Bring it on!"
– Arron
"I've gotten results in spades from Electric Campfire."
– Gordon
"I have achieved a lot with Electric Campfire… It has given me so much foundation and motivation."
– Adam
"Love this – such an education. Thanks again, This site is SO much what I have been searching for!"
– Paul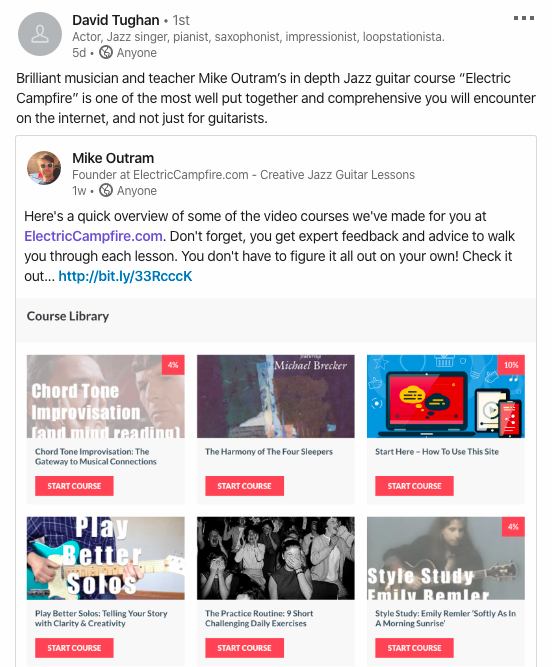 "Superb lesson Mike! Can't wait to practice this."
– Mike
"This lesson alone is worth the subscription. I finally 'get' what those pianists and guitarists are doing when they are substituting chords all over the place with a familiar song."
– Jonathan
"Wow Mike! Such a huge amount of great stuff here! Some very deep too! Gonna be cracking into some of this in the coming week! I really like the visualisation ideas, been trying that out the last couple of days."
– Jim
"this lesson is really nice for me because fundamentally it's very simple ;) It felt like quite a leap from the "window" idea to the linear lines but I'm itching to put some time into this and see what transpires. Thanks Mike.
– Stuart
"I just wanted to get in touch as I haven't posted since my 'hello' post. Well, I'm having a great time! So, this is really to say thanks for such an exciting course. Everything I've looked at has been fascinating."
– Dave