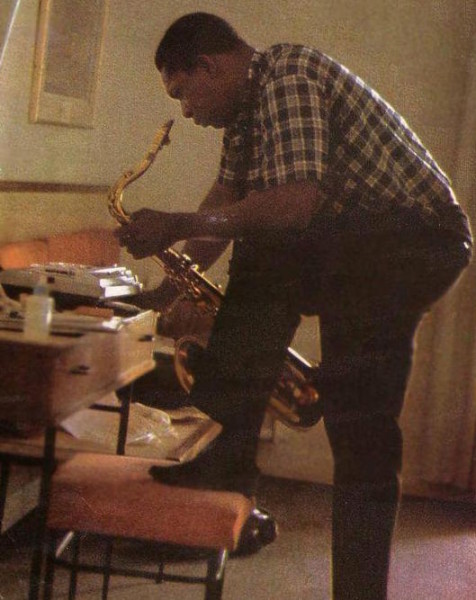 Here are my 10 favourite solos. They're also the 10 most beneficial solos I've learnt from. I keep coming back to them for inspiration again and again. Every time I play along to them I always learn something new.
Also, I've made a Spotify playlist for you of these favourite solos so you can listen and absorb the magic in these musical gems whenever you want.
Here are some of the things I love about them:
1. Charlie Parker – Embraceable You
Parker's solo on this is just incredible. He sounds so lyrical and free on it; every phrase is perfect. And he plays some super interesting stuff too. I made an album where we used the solo from this. We play phrases from Parker's solo and improvise in-between them. You can find it on this page
2. Emily Remler – Softly As In A Morning Sunrise
I love Emily's arrangement of Softly. She plays the tune with harmonics and octaves, and plays an utterly burning solo full of triplety goodness. The CD that this is from, 'East To Wes', is a classic; every track's a winner. One of my favourite guitarists. The Hotlicks DVDs she made were great, too.
3. Charlie Christian – Boy Meets Goy (Grand Slam)
I first heard about this solo because Jim Hall mentions it as being one of his favourites. The feel Charlie gets is so powerful; he really lays into it! The arrangement and ensemble playing are fantastic, too – packed full of great ensemble playing.
4. George Benson – The Cooker
Benson burning right from the off here. Face melting! Again, the whole record is classic, as is the other record from this period [It's Uptown]. There's so much to like in Benson's playing, but one of the things that grabs me about the way he plays on this album is how energetically he plays. And everything else :)
5. John Coltrane – Satellite
Love this solo. It's a trio of sax, bass and drums. The tune is based on How High The Moon and Coltrane uses his giant steps cycle thing on it, but in a way that's more interesting to play over than Giant Steps. Also I like the trance-like intensity of this performance. And I love the way Elvin Jones starts every new chorus after the vamp – each time it moves up another gear.
ELECTRIC CAMPFIRE MEMBERS!
In this course, I show you how to take the ideas & licks you like from recordings & books and move them to the next level so they become part of your natural language.
Not an Electric Campfire Member? Click here to learn more
6. John Scofield – Do Like Eddie [Eddie Harris]
It's Eddie Harris that does it for me on this track; Scofield is no slouch either! The feel Eddie gets is great as well as how he seems to split ideas up and carry them on at the same time. He's all over the saxophone on this. Ridiculous. Check out these Eddie Harris tracks too: 'Is It In' and 'Cryin' Blues'.
7. Larry Goldings – Little Green Men [Peter Bernstein]
Peter Bernstein plays guitar on this. I love this trio and this album and this tune! This Bernstein solo is a classic; it's so relaxed and melodic.
8. Lennie Tristano – Line Up
I think this and East Thirty-Second are my favourite '8th-notey' solos ever. They're just staggering. There's so much in them. Also interesting for when they were done (1955) and how they were done (with tape manipulation and overdubbing). Also, if you're a massive nerd, check out the track at half speed and down an octave. I think that's what Tristano was hearing when he was playing. When you hear it like that, the piano sounds like a piano, but it's played right at the bottom. What do you think? Also check the fade out (loud) I think I hear Tristano getting up from the piano and maybe saying something? Also, maybe if he had to get up from the piano to turn the tape off that might explain the beginning where he doesn't play for 8 bars – maybe he just pressed record and he has to get to the piano. Do you hear the same 'rustling' at the front?
9. Pat Metheny – All the Things You Are
There's so much good stuff in this solo. The phrasing is the thing, and how they mess around with the barlines/rhythm. In just the first 8 bars of his solo he takes a little motif and displaces it, sets up a punchline and delays the resolution of that. He's an incredibly quick thinker. There's one bit towards the end of the solo where he sails through the changes in such a subtle way. Burning!
10. Wes Montgomery – D-Natural Blues
A total classic. Maybe it's just because I've heard it a lot, but to me the whole solo sounds like a song. Someone must have put words to it somewhere? Incredible RHYTHM on this one. Also, try to play this one with your thumb (like Wes does). I've no idea how he did some of the faster lines like that!
Ok, so those are my 10 favourite solos that I keep coming back to for inspiration. I try to play them every month or so, and there really is gold in there.
If you want to know how I use them, just let me know, or come and Join the ElectricCampfire Membership and you'll see exactly how.
Don't forget to grab the playlist I've made for you (plus and extra secret surprise!)
PS. I've made a Spotify playlist of all these tracks for you.

Click HERE to get it!

The whole playlist is an hour long so it makes a GREAT practice session to play to. Much more beneficial and enjoyable than playing triads over bass notes :)